The Opera made its debut in the Olympic Stadium of the capital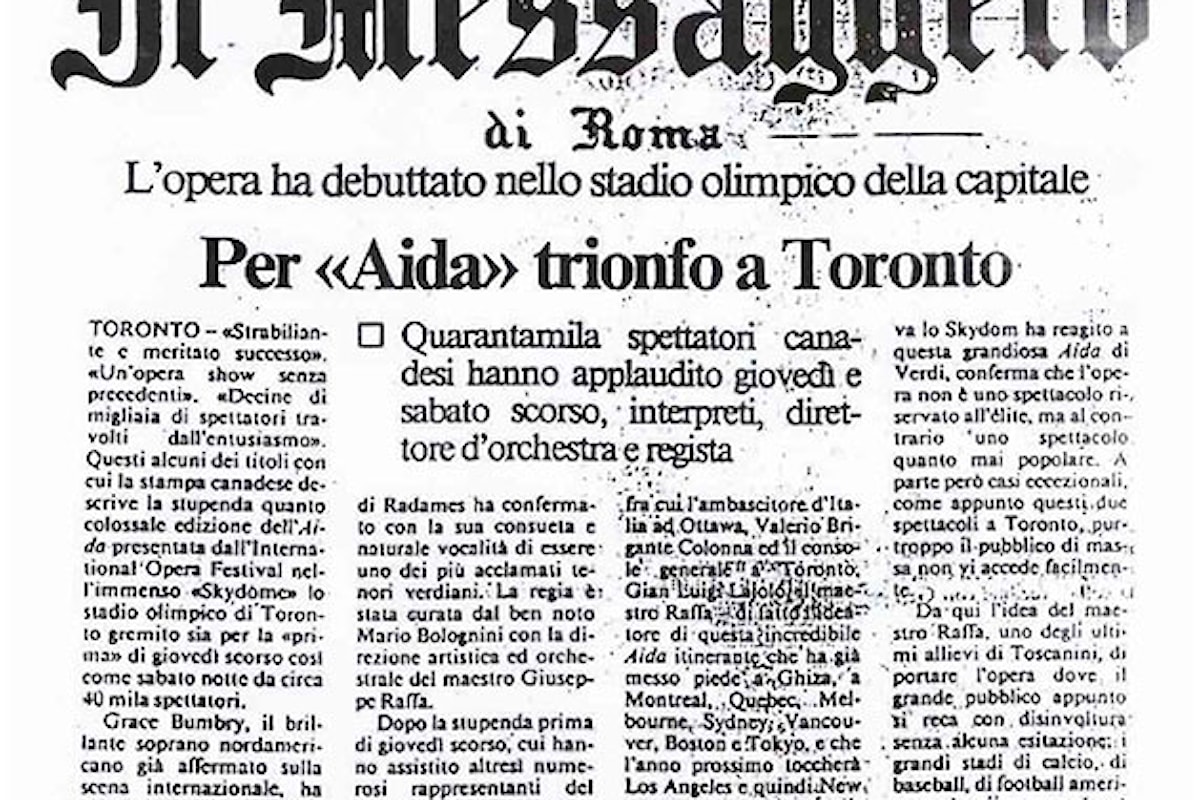 Tempo di lettura: 2 min.
A triumph for "Aida" in Toronto
Forty thousand Canadian spectators applauded the cast, conductor and director, last Thursday and Saturday
TORONTO – "Amazing and deserved success". "An opera show without precedents". "Tens of thousands of spectators overwhelmed with enthusiasm". These were just some of the headlines with which the Canadian press described the wonderful and colossal production of Aida presented by International Opera Festival in the immense "Skydome", the Olympic stadium of Toronto packed with some 40 thousand spectators on both on the Thursday debut and the Saturday performance.
Grace Bumbry, the brilliant American soprano already prominent also on the international stage, has perfectly interpreted the role of Aida and Italian tenor Bruno Sebastian in the role of Radames has confirmed, with his usual and natural vocal qualities, to be one of the most acclaimed tenors of Verdian repertoire. The stage direction was signed by well renowned Mauro Bolognini, while the artistic direction and conducting was by maestro Giuseppe Raffa.  
After the wonderful debut recital of Thursday, attended by numerous representatives of the Canadian cultural, artistic and political scene. Together with several diplomats, including the Italian ambassador to Ottawa, Valerio Brigante Colonna and Consul General in Toronto Gian Luigi Lajolo. Maestro Giuseppe Raffa (the "de facto" creator of this incredible touring Aida - already staged in Giza, Montreal, Quebec, Melbourne, Sydney, Vancouver, Boston, Tokyo and that will be in Los Angeles and New York next year). Did not hesitate in declaring that the enthusiasm with which the audience that has filled the Skydome, has welcomed this grandiose Aida, confirms the opinion that Opera is not just something for cultural elites but indeed also an ever so popular spectacle. With a few exceptions, such as these two performances in Toronto, it is not usually accessible to the greater public, unfortunately.
This is the foundation of Raffa's idea (one of the last pupils of Toscanini), bringing Opera in venues where the greater public has easier and less hesitant access: large football and baseball stadiums, where large rock shows are also organized.