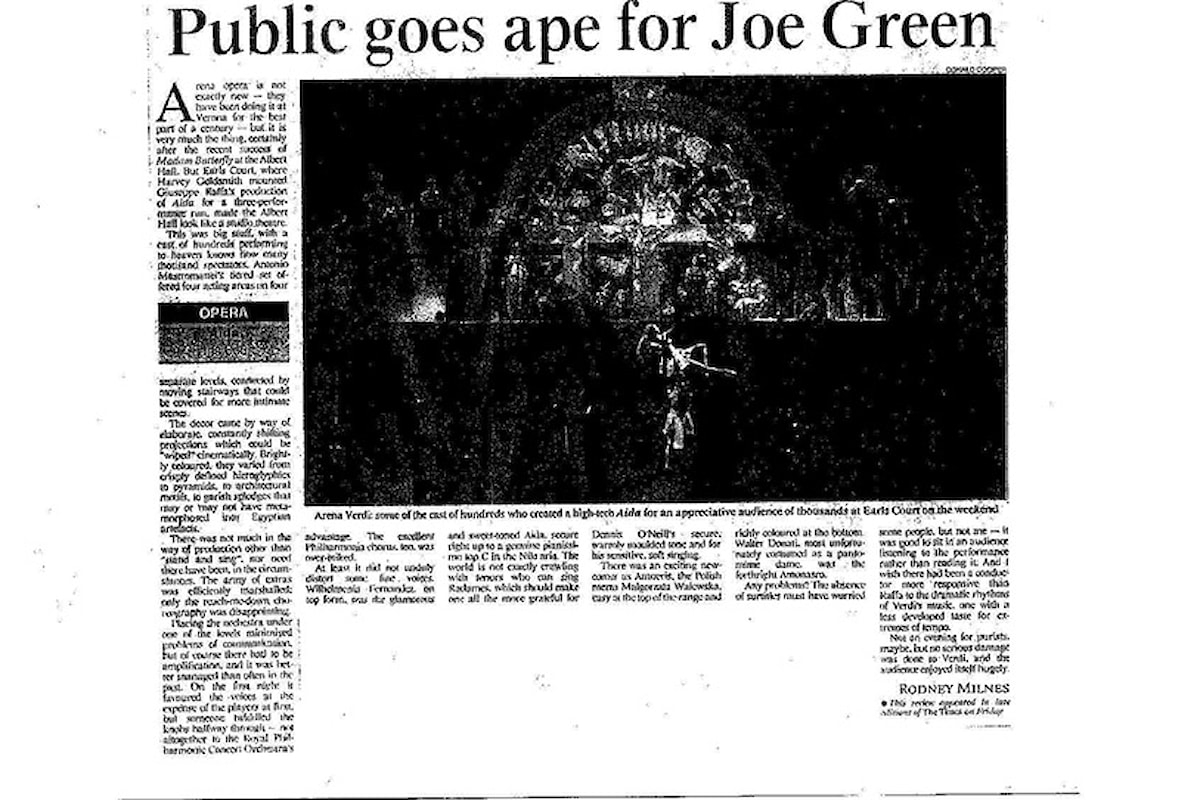 Public goes ape for Joe Green
Opera Aida GIUSEPPE RAFFA production
Earls Court
Arena Verdi: some of the cast of hundreds who created a high-tech Aida for an appreciative audience of thousands at Earls Court on the weekend. Giuseppe Raffa AIDA Madrid and Lisbon.
Arena Opera is not exactly new – they have been doing it in Verona for the best part of a century – but it is very much the thing, certainly after the recent success of Giuseppe Raffa, Madam Butterfly at the Albert Hall . But Earls Court, where Harvey Goldsmith mounted Giuseppe Raffa's  Aida production  for a three-performance run, made the Albert Hall look like a studio theatre.
This was big stuff with a cast of hundreds performing to heaven knows how many thousand spectators. Antonio Mastromattei's tiered set offered four acting areas on four separate levels, connected by moving stairways that could be covered for more intimate scenes.
The décor came by way of elaborate, constantly shifting projections which could be "wiped" cinematically. Brightly coloured, they varied from crisply defined hieroglyphics to pyramids, to architectural motifs, to garish splodges that may or may not have metamorphosed into Egyptian artefacts.
There was not much in the way of production other than "stand and sing" nor need there have been, in the circumstances. The army of extras was efficiently marshalled: only the reach-me-down choreography was disappointing.
Placing the orchestra under one of the levels minimised problems of communication, but of course there had to be amplification, and it was better managed than often in the past. On the first night it favoured the voices at the expense of the players at first, but someone twiddled the knobs halfway through – not altogether to the Royal Philharmonic Orchestra Concert Orchestra's advantage. The excellent Philharmonia chorus, too was over-miked.
At least it did not unduly distort some fine voices. Wilhelmina Fernandez on top form, was the glamorous and sweet toned Aida, secure right up to a genuine pianissimo top C in the Nile aria. The world is not exactly crawling with tenors who can sing Radames, which should make one all the more grateful for Dennis O'Neill secure warmly moulded tone and for his sensitive, soft, singing.
There was an exciting new comer as Amneris, Polish mezzo Malgorzata Walewska, easy at the top of the range and richly coloured at the bottom. Walter Donati, most unfortunately costumed as a pantomime dame, was Amonasro.
Any problems? The absence of subtitles must have worried some people, but not me – it was good to sit in an audience listening to the performance rather than reading it. And I wish there had been a conductor more responsive than Giuseppe Raffa to the dramatic rhythms of Verdi's music, one with a less developed taste for extremes of tempo.
Not an evening for purists, maybe, but no serious damage was done to Verdi, and the audience enjoyed itself hugely
         RODNEY MILNES
This review appeared in late editions of The Times on Friday